Exercise
Great plans on the shelf do not mean great performance during a crisis!
We are experienced in helping organizations conduct focused exercises that meet specified goals and objectives within limited time available.  GVC plans exercises using the national exercise planning program:  Homeland Security Exercise and Evaluation Program (HSEEP) as a guidance, not as doctrine.
We have found that some folks consider filling out the HSEEP forms as evidence of a successful exercise.  We believe that improving the ability of individuals and organizations to respond safely and effectively and be able to demonstrate competency in the identified goals as the measurement of success.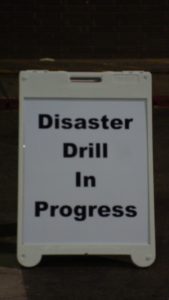 We have developed and conducted all levels of drills and exercises:
Seminars
Workshops
Tabletops
Functional
Full scale
The exercises range from community-based drills, healthcare and public health focused exercises, and local, state, tribal, and federal government exercises.  We often bundle training on an aspect of emergency management with a subsequent exercise.
We tailor the exercises meet the unique needs of each client and organization.
GVC not only develops and conducts the exercises, but we are experts at conducting after-action evaluations and writing the after-action report and improvement plans.  Working closely with the client on the after-action processes, we ensure that the after-action report and improvement plan are realistic and assist the organization to improve and mature.
Types of exercises that we offer include:
Emergency Operations Centers, Hospital Command Centers and Department Operations Centers
Continuity of Operations (including immediate, intermediate, and long-term recovery)
Access and Functional Needs
Emergency Preparedness, Activation of Plan Elements
Mass Care and Sheltering
Evacuation
Behavioral Health
Hazard-Specific Scenarios (e.g.)
HazMat, CBRNE/WMD
Infectious Disease and Pandemic Emergency Response
Earthquake
Flood
Fire
Active Shooter
Tornado
Utility Failure
Ice Storm/Blizzard/Hurricane/Extreme Heat
Copyright © 2020 Global Vision Consortium, Inc. All rights reserved.